INTERFORST videos
Enjoy the INTERFORST in motion pictures.
Green Couch Away on Travel: Interview with Stephan Thierfelder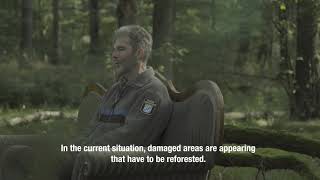 INTERFORST 2018 | Interforst in Action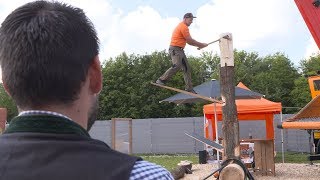 Action! Action! Action! at Interforst 2018. The leading trade fair for forestry is getting down to business. One highlight is the Bavarian Logging championship, which will be held for the 14th time. Gerhard Briechle, Master Forest Management, Bavarian State Forestry: This is mainly about the profession of forestry and we want to show this interesting profession, which an outsider in the forest can never see, up close and as effectively and interestingly as possible and of course competitively. Flying chips and lots of action await the spectators at the STIHL TIMBERSPORTS ® show. Germany's top athletes grab their razor-sharp axes and high horsepower chainsaws. On the action Area "Forestry practice special", the results of a comparative test with four different firewood processors are demonstrated live. Heinrich Höllerl, Editor Forst & Technik: This year, Interforst is at least the largest forestry fair in Europe, i.e. if you want to reach a large audience: where, if not here?
INTERFORST 2018 | Big Machines for Sustainable Future of the Forest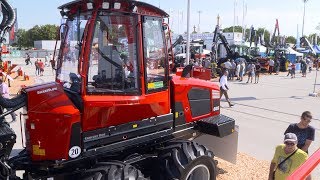 Warmer, drier and more extreme weather: Only a healthy forest with climate-tolerant tree species is sustainably protected against climate change and pests. Larger areas of forest and timber yields also require larger forestry machines. On terrain or wet soils in particular, the subsoil can be damaged quickly. That's why Komatsu is presenting its harvesters for the first time with 8 instead of the current 6 wheels. The pressure on each individual tyre is thus reduced. Minimizing ground pressure is also the goal of the KWF. Their forwarder "OnTrack" moves across a belt surface and uses sensors to test the impact on the ground. Not only protecting the forest during logging but simultaneously lowering emissions and saving time and money in the process – that's the goal of Noe. For the first time, the company is presenting a forwarder combined with a machine that splits the logs into firewood. A further proven method: working with a cable crane, which transports the wood without much ground contact. Konrad Forsttechnik wants to save extra energy and costs here. From big to small – that is, mini-forestry machines. The Finnish company Usewood combines a harvester with a mini-forwarder, especially to avoid damaging any small trees during harvesting in young forests. At INTERFORST 2018, small and large innovations are on display for the sustainable future of the forest.
INTERFORST 2018 | Opening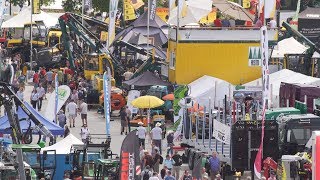 The forest is a modern economic factor—as proven every four years by INTERFORST in Munich. As the leading international trade fair for forestry and technology demonstrates, the forest is not only of deep interest to experts, as well as the 700,000 private forest owners in Bavaria, but also to politicians. 453 exhibitors from 28 countries are presenting their technologies in the areas of forest management, wood processing, energy, transport and occupational safety. And one topic in particular is on everyone's lips at the moment: Digitization With the support of IT, forestry is meeting the challenges of the future. Thanks to big data, forests can be processed more efficiently and climate change actively counteracted. And the workforce is supported digitally as well. Forests affect everyone—whether they're digital forestry workers or hikers looking for relaxation. So modern and sustainable forestry is correspondingly important. And INTERFORST shows how it's done.
INTERFORST 2018 | Green Couch Away on Travel: Forest Owners in the Focus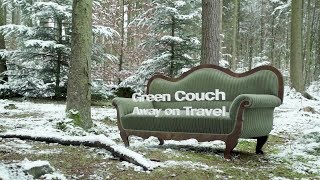 Dr. Eva Tendler, Project Manager in the Bavarian Forestry and Wood Cluster ["Forst und Holz Bayern"] wrote her doctoral thesis on "Urban Forest Owners". INTERFORST invited the forestry scientist to sit down on the Green Couch in the midst of the wintry Freising forest [Freisinger Forst]. There, we talked with her about the changes in the forest ownership structure, the increasing number of female forest owners and the challenges that forest owners are facing.
INTERFORST 2018 | Green Couch Away on Travel: Spectacular New Church Made of Wood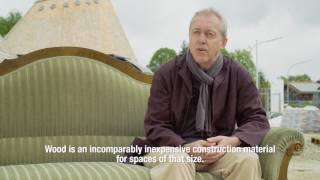 Spectacular New Church Made of Wood – Architect Eberhard Wimmer in an Interview. Vigorous, bright and ecological: a spectacular wooden church is under construction in Holzkirchen near Munich. INTERFORST talked with its architect Eberhard Wimmer. What makes wood as a raw material so interesting for him? One fact is clear: the use of wood from sustainable forestry is absolutely climate-friendly—and timber construction is in vogue. The interview took place locally on the Green Couch which otherwise offers space for discussions on trend topics in the midst of the trade show activities.
Would you like to see more?
Additional podcasts about INTERFORST and the latest industry topics are available on our YouTube channel.
Advertisment
Advertisment
Advertisment
Advertisment
Advertisment